About Our Mission
Authenticity.  Transparency.  Accessibility.  Personalization.
Dear Departures was born out of a desire to advocate for informed decision making. The home funeral movement, is essentially a reclamation. While it is true that many cultures never stopped caring for their dead, the rise in medicalized, sterilized, industrialized, commercialized, and commoditized death care in western society over the last hundred and fifty years has disenfranchised many.
Folks have been made to think and/or feel like they need a professional/expert to tend to the dead on their behalf, often at great financial cost. 
The home death care/community death care movement, much like the home birth movement, has been about tapping into, and trusting, our innate abilities and support networks to see us through the bookends of life in the privacy and comfort of our own spaces.
At Dear Departures, we encourage you to have as much control and autonomy as you'd like, and we can be there to guide, support, companion, and craft, when called upon. 
You don't NEED us, but if you want us, we'll be there.  
You and your pod do not have to contract the services of a funeral home in Colorado in order to have time with, care for, and grieve the departed. In fact, many funeral homes limit your ability to do so in meaningful ways.
Dear Departures is not anti-funeral home.
We are proud to work closely with, and whole-heartedly support, home-funeral-friendly funeral homes and Funeral Directors that strive to ensure folks know their rights and what's available to them in terms of options. Home funerals aren't for everyone. We just want to be sure that those who may want one, have access.     
About the Tagline – As the Sun Sets on Life
Please, know that we did not come to this tagline in a "rainbows and butterflies" sort of way. 
We aren't ones to get all mushy about death being beautiful. Death can be awful, traumatic, and  unfair.
In some cases, there may be room for bringing little (or big) bits of beauty to the dying, or after-death, experience. 
Whether you know your life or someone in your circles is ending, or on the flipside of that were totally blindsided by a sudden death, the journey can be devastating either way. 
So, what place does talk of beauty have in all of this? 
Even if the only beauty that can be brought to end-of-life, or after-death, is a splash of color, a favorite song, a familiar food, or a funny story…bring it!
As the sun sets on a life, may we take in whatever vibrancy may be accessible to us, if any. We honor that there may be none.  
As the dying person, we invite you, where possible, to take in any last bits of beauty that you can. 
As the survivors, we invite you, too. Take in any bits of beauty, if there are any, before night fall.
When our person has dipped out of sight, below the horizon, what may come next is the darkness that is life without them. 
Hopefully, in the darkness that is grief, we are graced with at least a sliver of light, by way of the moon. 
Where does moonlight come from? Is it not light reflected from a sun we can't see, but that is there none-the-less? 
Regardless of our spiritual beliefs (or lack thereof) one thing we think most people can agree on is that, what ultimately lives on, if nothing else, is our memory.
The departed are in fact still with us – in memory, and in love.*  
May their memory light our way in the dark, until the dawn of a new (albeit very different) day breaks.
*if love was not a cornerstone in your relationship with the departing/departed, we see you, we honor the complexity that brings to this experience, and we send you our love.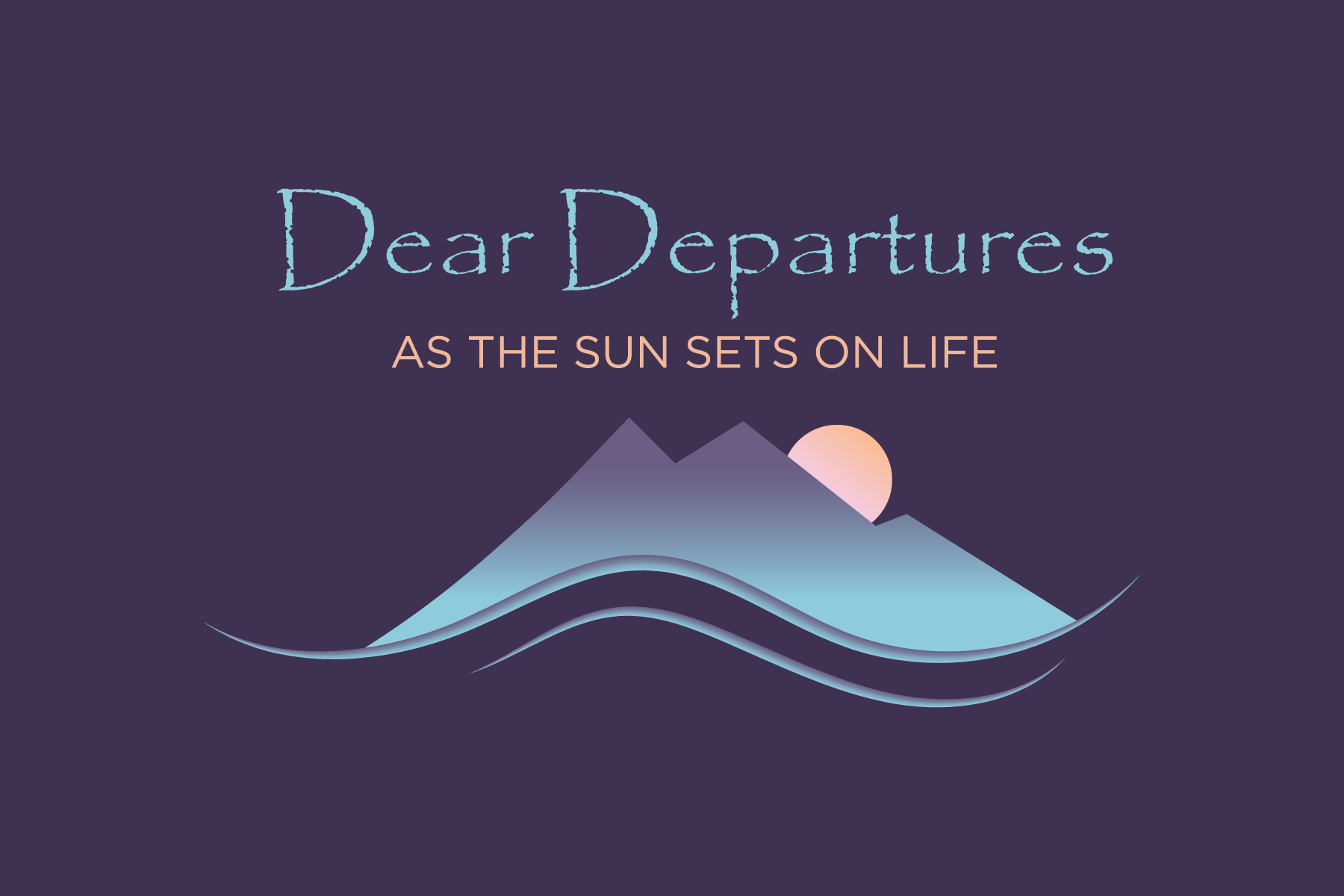 About Our Logo
Yes, yes, we know…yet another logo, in Colorado, with mountains!  We love our mountains though!  And, to be fair, a lot of heart and soul went into our logos development. The colors.  The four elements. The setting sun.
Earth. Fire. Water. Air.  Earth honors the solid foundation we've laid personally and professionally, and reminds us to stay grounded.  Fire speaks to our passion. Water reminds us that we can be fluid, and still be exceptionally strong.  Water as shape shifter speaks to our ability to be true to who we are, all the while, being adaptable.  Air speaks to the universal human experience of taking our first precious breath when we are born, and our last breath when we die. John F. Kennedy said, "We all breathe the same air."  A reminder that despite all our differences, we are one.  Air invites us to consider that just because we can't see something, doesn't mean it's not there.
Regarding the colors of purple and teal, Dear Departures' founder Tawnya shared:
"I rock a purple and teal suicide awareness ribbon tattoo.  As chance would have it, the hospice and palliative care ribbon is also purple and teal.  A mirrored image.  Sure, there are only so many colors and color combos out there, but it was one of many serendipitous alignments in my journey into the death-sphere.  You see, I have endured depression and suicidal ideation for as long as I can remember. (By the way, I'm a pretty open book.)  Thus far, I've chosen life.  It hasn't always been easy.  One day in April of 2016, I was the closest I had ever been to killing myself.  The choice I made to live that day was a turning point.  My self-discovered mantra coming out of that experience was 'If I choose to live, I choose to live well.'  What living well looked like took some time to nail down, but a substantial piece of it was to find meaning and purpose in my life's work.  As I've journeyed into the realm of death and dying, and found my niche, I've often reflected on the choices I've made to keep going.  Had I chosen death before finding this work, I wouldn't be here to advocate."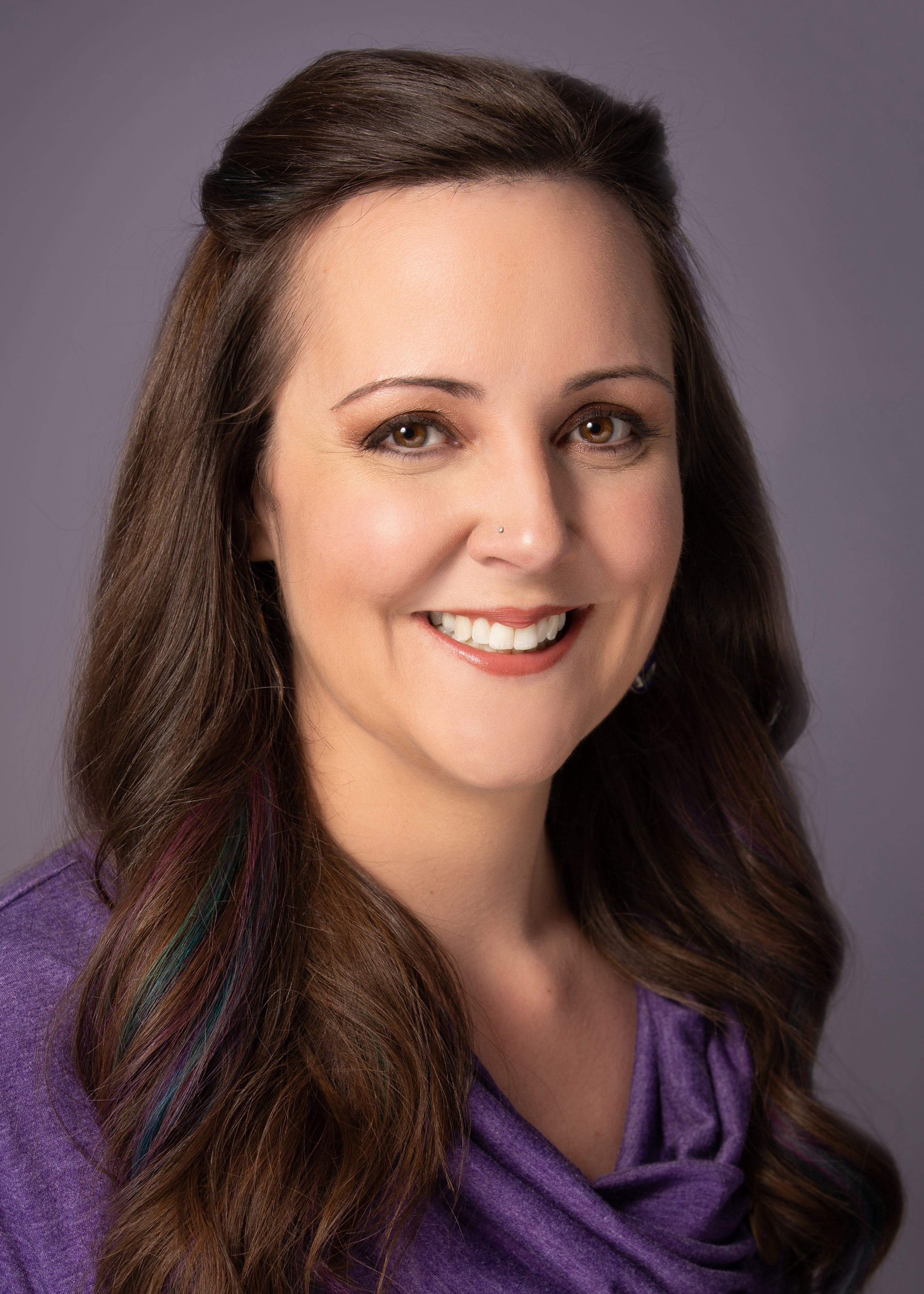 About Our Founder
Hello!  Tawnya Musser here!  My educational background is in human services, with an emphasis in counseling and mental health.  I have worked as a family advocate, counselor, and case manager.  I've mentored at risk youth, and worked with both children and adults with developmental disabilities.
Though I knew at a very young age that I wanted to be in a helping field, in order to be of service to my fellow human beings (for whom I have always cared deeply), none of my roles ever seemed to quite "fit."  In 2016 I started engaging heavily in the realm of death and dying, on a personal level.  After gaining some clarity that I seemed to be "in my element" in the death-sphere, I started pursuing education and sought out some mentors, in 2018.  I'd finally figured out what I want to be when I grew up! 
While I am strong suited to be in a service role, in roles past, I found myself trying too hard to "fix" and "save."  Through insight, and lots of personal work, I was able to tap into, that, serving in the realm of death and dying is a good fit for me because there is nothing to fix.  There is no one to save.  What is happening is happening.  What has happened has happened.  My role is to be there…to witness, to hear, and to hold.  To walk alongside folks as they navigate the often murky waters of death and dying.  Being called on during what may be a difficult, messy, painful time in peoples' lives is not something I take lightly. 
 ***
Tawnya's Training
Tawnya graduated in 2019 from the Life-Cycle Celebrant® program at  Celebrant Foundation & Institute, where she specialized in funerals. 
She's a 2018 graduate of the Sacred Passages Doula certificate program through the Conscious Dying Institute.
She's also completed the following:
–Being Here Human's Grief Literacy Training 
– Anti-Carceral Approaches to Suicide course with ProjectLets
-Trans Inclusion with Desiree Celeste (they/them).
-Pregnancy & Infant Loss trainings with the Institute of Birth Breath & Death.
-VSED (voluntary stopping of eating and drinking) education with VSED Resources

-Trauma Informed Death Work with Narinder Bazen
She holds a B.S. from Metro State University of Denver in Human Services/Counseling & Mental Health, class of 2008.  
 Additionally, she is on the Board of Directors for the National Home Funeral Alliance (NHFA) and  is a member of  the Colorado End-of-Life Collaborative and the National End-of-Life Doula Alliance (NEDA.) 
 ***
 A Word About Training
The home death care/community death care movement is about folks knowing and trusting that they don't have to call on, nor pay, a "professional" to care for their dead if they don't want to. 
It is important to us, at Dear Departures, and as a part of the movement at large, that we not perpetuate the medicalized, industrialized, commoditized, sterilized, death trade that has disenfranchised so many. 
There is no governing body for "certified" death doulas, celebrants, or home funeral guides, nor does having a piece of paper necessarily legitimize someone's knowledge, skill set, empathy, or compassion in any arena.   
 You don't need any formal training to care for your dead and dying, nor do you need to hire someone that has training or certification.   
Accessibility Statement: 
deardepartures.com strives to ensure that our website is accessible to people with disabilities. We use UserWay Website Accessibility Widget that is powered by a dedicated accessibility server. The accessibility menu can be enabled by clicking the accessibility menu icon that appears on the corner of the page. After triggering the accessibility menu, please wait a moment for the accessibility menu to load in its entirety.
Despite our efforts to make all pages and content on deardepartures.com fully accessible, some content may not have yet been fully adapted.  If you are experiencing difficulty with any content on deardepartures.com or require assistance with any part of our site, please contact us and we will be happy to assist.